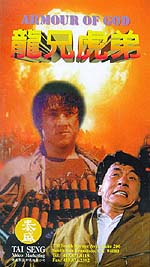 Armour of God
AKA: Operation Condor 2: The Armor of the Gods
1986
Director: Jackie Chan
Stars: Jackie Chan, Alan Tam, Lola Forner, Rosamund Kwan
Chan plays Asian Hawk, an adventurer who teams up with a pop star (Tam) and an heiress (Forner) to begin looking for the valuable Armour of God to save his ex-girlfriend (Kwan) after she is kidnapped by a group of evil monks.
Armour of God is widely considered to be one of Jackie Chan's best films, but it left me feeling a bit flat. Yes, there's some great action, fighting and stunts, but the film seriously lags in the middle. Many of Chan's films during this period had what I term the "girl-chasing" scene, where Chan (or one of his co-stars) literally chase a girl around trying to get into her pants. There's nothing wrong with this in small doses, but in Armour of God, it goes on for about 15 minutes (or at least seems like it) and really slows the movie down.
Overall, though, there's plenty of the "good stuff" (read: Jackie opening a can of whoop ass) to please Jackie Chan fans and make this film worth at least one viewing.
RATING: 7
Some notes:
Chan/Tam's band "The Losers" is a parody of Alan Tam's real-life old band "The Winners," which also featured HK actor Kenny Bee.
Jackie Chan sings the song at the end of the film. It eventually became a minor hit in Asia.
This film literally almost killed Jackie Chan when a stunt mishap caused him to fall and hit his head on a rock. Luckily, when Chan was rushed to the local hospital, one of Europe's top brain surgeons was visiting and was able to operate. The injury left a permanent hole in Chan's head, which he has to plug with a small piece of plastic. After the accident, the producers made Chan grow his hair out from the short flat-top he sports at the beginning of the movie, since they thought Chan's cutting of his hair brought him bad luck.
Armour of God
was a huge hit in Hong Kong, breaking records at the box office.
Like most of Dimension's US re-releases, Armour of God was cut heavily. The biggest edit occurs in the almost total omission of the "girl-chasing" scene, which creates a huge plot hole at the end of the movie.