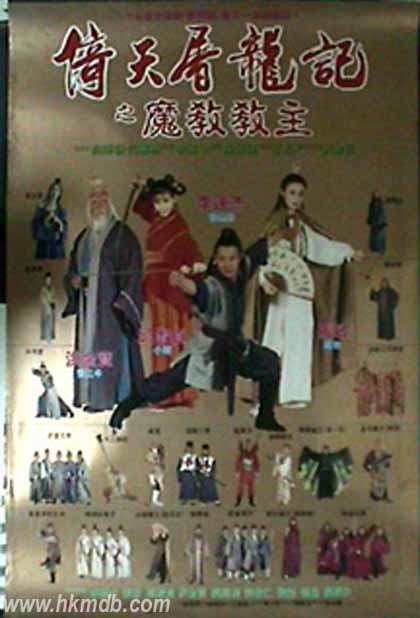 Kung Fu Cult Master
AKA: Kung Fu Colt Master, Kung Fu Master, Lord of the Wu Tang
1993
Director: Wong Jing
Writer: Wong Jing
Stars: Jet Li, Chingmy Yau, Cheung Man, Sammo Hung, Francis Ng
A magical sword held by a kung fu master known as the Golden Lion is sought out by all the kung-fu clans in the land. Cheung Man and Francis Ng are followers of Golden Lion and commit suicide before revealing the secret location of their master, leaving their child behind to be taken care of by his uncle (Sammo Hung). Before her death, the kid's mother makes him take a vow that he will get revenge. The kid (who grows into Jet Li) wants to do so, but he was hit by a technique known as the "Jinx Palm," so he can't fight. This leads to ridicule and jealousy from his fellow clan members, and when Sammo decides to leave for a while, Sammo's son decides to whoop Jet's ass and almost succeeds, until he is saved by Chingmy Yau. Eventually, Jet manages to learn a super form of kung-fu from an old monk chained to a rock (?!) and decides to go forth with his quest for revenge. Wait a minute, do you remember that magical sword? Well, it seems now that all the other clans view Jet's as evil because they still have it and so they're willing to do anything to get the sword, including starting an all-out war.
Or something like that. Normally, watching a Wong Jing movie is like watching a car wreck -- it's hideous and doesn't make much sense, but you still have to watch because, for some reason, it's still entertaining and fascinating. Kung Fu Cult Master is like watching an 18-wheeler and a monster truck collide. For many times during the story, I seriously had no idea what the hell what was going on. I must admit, I am normally a little bit lost when watching most wu xia (fantasy swordplay) movies. I think there's just something about the intricacies of this genre that just doesn't translate well to Western audiences, especially with horribly translated subs like "Don't think I am a 100 year old granny, every morning I am still erect!"
Not to say that these films aren't fun to watch, even for the most naïve Hong Kong film viewer. Watching the interaction between the characters is still interesting, and when the various elements finally come together, like many other wu xia films, Kung Fu Cult Master is quite a satisfying viewing experience. Some of the action set pieces featured in the movie are some of the best I've ever seen. The huge battle between the clans is phenomenal, occurring above, on and below the ground, with tons of limbs flying about and then Jet coming in like Ryu from "Street Fighter" chucking fireballs at everyone.
While Kung Fu Cult Master is most likely one of the most puzzling films you've ever seen, patient viewers will be rewarded with a wire-fu spectacle that few films can rival.
RATING: 8
Some notes:
Arena's version Lord of the Wu Tang has a decent picture and sound with okay subtitles, but the prologue is cut, which may make the film confusing for those who haven't seen the HK version.



The ambiguous ending was intentional; there was supposed to be a sequel, but the film came at the end of a spate of wu xia movies and didn't do well at the box office. MC4 offers this bit of info on his site: "The movie ends with an abrupt cliffhanger. Rumor has it that some footage was shot for the second installment but was quickly dashed when the movie turned into a huge box office disappointment. A lot of money went into creating the large scale fight scenes, and Wong Jing wasn't going to make the same mistake twice. The odds of ever getting to see the sequel footage, assuming it does exist, are non-existent. Anyone interested in knowing the fate of the characters should pick up Yin Jong's 'Heaven Sword and Dragon Sabre', on which the movie was based. There is also a complete TV series."

Newsgroup poster Man-Fai Wong offers up some more info: "Actually, there have been 3 different TVB miniseries adaptations of Jin Yong's novel, 'Heaven Sword and Dragon Sabre', since the late 70's. I believe the 1978 version with Adam Cheng in the lead role as Cheung Mo Gei is available on VCD. The 1986 version with Tony Leung Chiu-Wai in the same role might also be available. However, given that they're TVB miniseries, they are probably re-edited into shorter runs. Also, they don't seem to have English subs available. The latest version is apparently the weakest entry from 2000 and is probably available as a tape rental from Chinese rental stores. There was also a Shaw Brothers 2-part film adaptation of the novel circa 1978. I forget who played the lead role. The Shaw film (and all the TVB series) carries the original title name of the novel."



The alternate title Kung Fu Colt Master came from a misspelling on the VCD version.