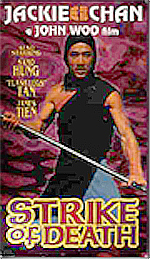 Strike of Death
---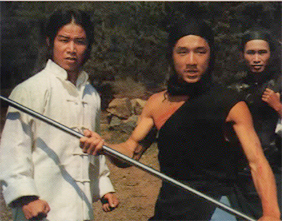 AKA: Countdown in Kung Fu, Hand of Death, Shaolin Men and Countdown in Death

Golden Harvest, 1975, 91 min.

Director: John Woo
Stars: Dorian Tan, Jackie Chan, Samno Hung, Yuen Biao, John Woo
Producer: Raymond Chow
Writer: John Woo
Cinematographer: Yung-Chi Lian
Editor: Chang Yao-Chen
Action Coordinator: Sammo Hung

Available on video (full frame and dubbed or subtitled) from Arena Video
---
A group of rebels (led by Tan) must band together to protect a courier (Woo) carrying a top-secret message that may change the fate of China.

Sure, it's a standard plot, but remember that this is Golden Harvest (the king of kung-fu quickies in the 70's) that we're talking about here. Strike of Death is by no means an Enter the Dragon, but it's still fairly entertaining to watch, especially if you're a fan of Jackie Chan or John Woo. The plot moves along a bit sluggishly at times and is full of cliches, but the fights are staged compentently, and the finale is a set of three pretty good fights. If you want to see an early look into the careers of future Hong Kong superstars (or just want to check out Sammo Hung with ridiculously cheesy fake buck teeth), you should see Strike of Death.

RATING: 5

Interesting trivia:
This was one of Woo's first movies as a director; he's listed as "John Y. Woo" in the credits.
During the filming of a fight sequence, Jackie Chan hit his head and fell unconcious. Woo seriously thought he had caused permanent damage to Chan and went to call for an ambulance. When he returned, he found Chan had woken up and was shaken, but willing to do the stunt over. The two have remained friends, but Woo finds it hard to watch Chan's films because he always thinks of everything that could go wrong.
This was the first film that Jackie Chan, Sammo Hung and Yuen Biao ("the three brothers") appeared in together. They all attended the same opera school in Hong Kong and would go on to work on several more films, including the highly successful "Lucky Stars" series.
Jackie Chan said this in his autobiography about working with Woo: "I enjoyed the film, and I enjoyed working with John...[he] taught me a few things about what directing was all about. I'd never wanted to direct before, partly because most of the directors I'd worked with were incompentent. John was different: he knew what he was doing...he had a vision...he cared about every move, every stunt, every fight, as if he were performing them himself...this was the kind of director I wanted to be." [Quoted from I Am Jackie Chan: My Life in Action (c) 1998 Ballantine Books]
Jackie Chan's role was originally intended for a Korean actor, but Woo thought the Korean was too old and slow and so fired him and brought in Chan instead.
Jackie Chan was the stunt co-ordinator for Woo's first film, The Young Dragons.
Woo says this about the movie: "I was the first young director in Hong Kong, and I was 27 years old. At that time most of the directors were at least 45 and had worked as an assistant [director] for 15 years. But I only had a year and a half as an assistant, and that made some people uncomfortable. A lot of film people said, 'He won't make it, he's too young.' But before they signed me I was still living in my friend's office, and had no place to go, so I was very grateful to Golden Harvest" [from Hard-Boiled DVD notes].