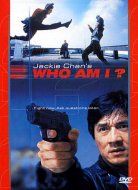 Who Am I?
Manufacturer: Colombia
Price: $20
Sound: Dolby 2.0, Dolby 5.1
Format: widescreen/full frame (dual sided disc)
Languages: English, French
Subtitles: English, French
Extras: trailer
Pretty bare-bones presentation -- I guess you're in trouble when they advertise "chapter selection" as a special feature. Anyway, the movie looks and sounds pretty good, except for the beginning, where the electronic titles look cheap and during the blooper reel at the end, which uses the original HK print and again looks cheap. The liner notes also have some wrong facts about Jackie Chan, such as stating that he went to opera school in Australia.
Rating: **