Soul Blade & Soul Calibur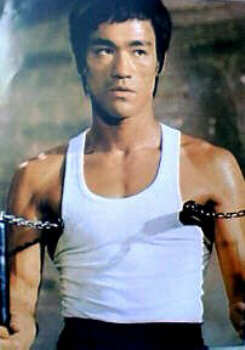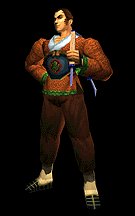 These fighting games each have a character based on Bruce Lee. "Soul Blade" features a man named Li Long who uses the "Fighting Dragon" style of kung fu along with nunchakus and some of Bruce Lee's trademark moves like the jumping chest crush.
The sequel, "Soul Calibur," features basically the same character, except that this time he's called Maxi.
Martial arts master Sammo Hung looks to be in plans to direct and star in a movie based off this game. Here's the scoop from sammohung.com.
Everyone is still waiting for positive word on the Soul Calibur movie, even us. We do know that the producers of Soul Calibur signed a deal with Namco; so far, the movie is a go. Sammo expects to be formally signed on soon as director and possibly to play a role.

Here is more on the movie:

On Thursday, April 12, 2001, the producers (Alan Noel Vega, Michael Cerenzie, Dr. Sam Kute and Joseph Jones) signed a formal letter of intent with Namco vice-chairman Ryuji Hashiguchi to commence development on the movie version of Soul Calibur. Soul Calibur is a Namco-owned video game for the Sega Dreamcast game console that enjoys a global, ensemble cast.

Sammo Hung has also signed a letter of intent to direct Soul Calibur and the producers should officially attach Sammo soon.

The budget for Soul Calibur will depend on the stars and may go up to $50 million. If all goes well, principal photography could commence late Summer/early Fall 2001. Locations may include Eastern Europe (Prague) and parts of China. The planned release date is Summer 2002. Given Namco's relationship with award winning computer special effects house Rhythym and Hues, they are the first choice to do special fx on Soul Calibur.

We invite fans to recommend casting for the characters of Soul Calibur: The Movie.

An interactive movie website is planned that will feature up to date movie information and a contest wherein the winning male and female contestants will get cameos in the movie.
---